We are open for takeaway!
Mama mia! We have great news for you! ORZO is offering a mouth watering takeaway menu during lock-down. Click below to see what's on and order via phone.
You can now enjoy Orzo from the comfort of your home! Click on the link below to order our meals through our Orderup app.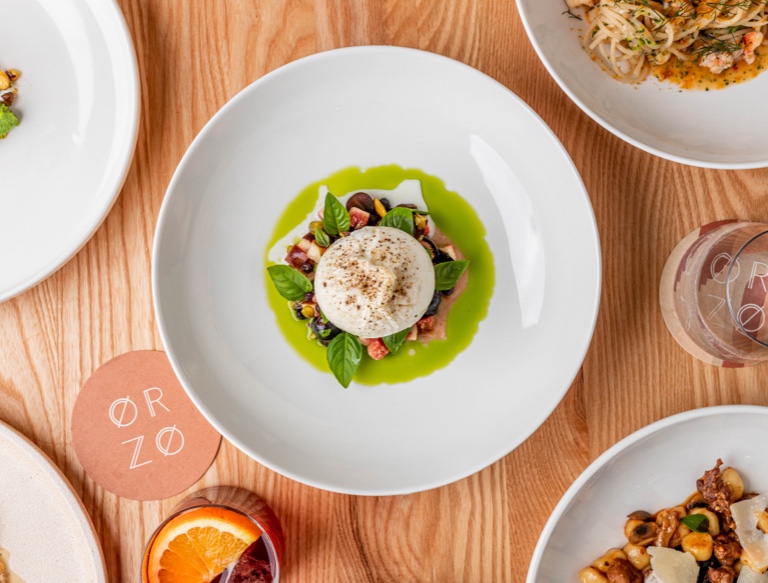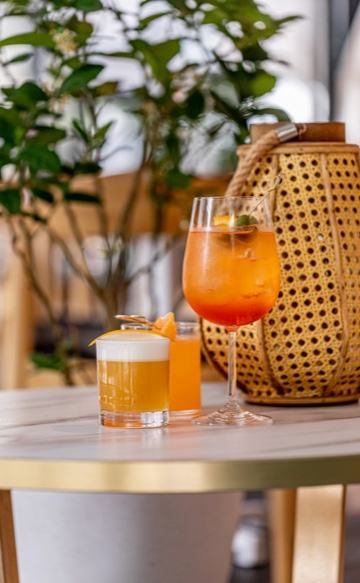 THE MENU
ORZO's creative and sophisticated menu is inspired by our love of traditional Italian recipes, flavours and methods. We enhance each recipe with a modern, creative touch and use only the freshest, local and imported produce to bring you a diverse and unforgettable menu that will please even the most jaded of taste buds. Using traditional '00' flour imported all the way from Italy, each of our dishes will satisfy the true Italian connoisseur, the contemporary and everybody in between. Peruse our latest inspired menu below: *ORZO's menu changes based on seasonal availability, so ensure that you check in prior to your visit.
FOOD
| Snacks | |
| --- | --- |
| House made focaccia, ricotta & rosemary oil / anchovy butter / mortadella mousse | 12 |
| Taleggio cheese stuffed fried green olives, truffle oil | 9 |
| Venere rice arancini, herb & focaccia crumb, mozzarella, saffron mayo | 10ea |
| Gnocco fritto, mortadella mousse, truffle pecorino | 10ea |
| Polenta cracker, gorgonzola, baked ricotta mousse, pear, radicchio | 10ea |
| Natural oyster, pink peppercorn & prosecco mignonette (3) | 12 |
| Starters | |
| --- | --- |
| Baked tomino cheese, truffled fioretto, broccolini, walnuts, honey | 25 |
| Yellowtail crudo, bagna cauda, baby fava beans, artichoke, blood limes | 26 |
| BBQ calamari, tarragon pesto, fregola sarda, balsamic vinegar sambal | 25 |
| Spiced eggplant parmigiana, scamorza, almond pangrattato, coriander pesto | 25 |
| Shaved cured meat selection, olives, house pickles, aged balsamic, bread | 24 |
| Pasta | |
| --- | --- |
| Bucatini – amatriciana sauce, guanciale, pecorino di fossa | 35 |
| Mezze maniche – ragu alla romana | 35 |
| Cavatelli – house made sausage, cime di rapa, roasted n'duja sauce | 35 |
| Risotto – kimchi, fontina, black fungi | 35 |
| Campanelle – tiger prawns, stracciatella, taralli, house dried tomato | 42 |
| Gnocchi – frutti di mare, seaweed fumetto, rocket | 41 |
| *gf spaghetti/rigatoni is available extra 3 | |
| Mains | |
| --- | --- |
| Roasted duck breast, heirloom kale, beetroot, arancia rossa & kumquat jus | 45 |
| Murray cod, vincotto, parsnip, salsify | 47 |
| Wagyu rib fillet mb7+ (150g), mushroom, leek, porcini jus, smoked chicken butter | 55 |
| Sides | |
| --- | --- |
| Radicchio + puntarelle salad, semi-dried grape, garum dressing | 12 |
| Roasted crushed redskin potatoes, rosemary salt | 12 |
| Pan fried green beans, pancetta, basil, marsala | 13 |
| Can't decide? 5 course chefs tasting menu available for $75 per head | |
| --- | --- |
| *please note, split bills not available for groups of 6 or more. 15% surcharge applies on public holidays. | |
AFTER DINNER
| Dessert Wine | 60ml |
| --- | --- |
| 2014 Cantine di Dolianova DOC (500ml) – Moscato di Sardegna Sardegna, ITL - v | 10/75 |
| NV Tonelli Visner di Pergola – Montepulciano with Visciole (local cherries), Marche, ITL | 10GLS |
| Digestif + Amaro (Italy) | 45ml |
| --- | --- |
| House Lemoncello | 12.0 |
| Grappa Nonino Vendemmia | 16.0 |
| Amaro Montenegro – mild, sweet, orange, black cherry | 14.0 |
| Zucca Rabarbaro – bittersweet, smoked rhubarb, orange peel | 14.0 |
| Cynar – ITL – savoury, earthy, vegetal | 12.0 |
| Braulio – pine, spearmint, floral bitterness | 13.0 |
| Vermouth | 60ml |
| --- | --- |
| Oscar.697 Bianco Extra Dry | 14.0 |
| Cinzano 1757 Rosso | 10.0 |
| Cocchi Di Torino Ricetta Originale | 14.0 |
| Apertif | 45ml |
| --- | --- |
| Grappa Nonino Vendemmia | 16.0 |
| Fernet Branca | 10.0 |
| Campari | 14.0 |
| Italicus | 10.0 |
| Baileys | 10.0 |
| Opal Bianca Sambuca | 12.0 |
Caffé
Social espresso voyager blend - colombia, costa rica, ethiopia, papua new guinea please note we only carry full cream milk
Espresso
4.0
Any other style
4.5
Extra shot
0.5
| Tea | |
| --- | --- |
| Tavalon | |
| Aussie breakfast, double mint, green w/summer fruits, sweet lemongrass | 6.0 |
| Dolci | |
| --- | --- |
| Pinenut pavlova, hazelnut cream, blueberry sorbet, almond praline | 18.0 |
| White chocolate cheesecake, seeds, watermelon granita, burnt chocolater | 18.0 |
| Tiramisu, coffee sponge, mascarpone parfait, coffee meringue | 18.0 |
| Affogato - espresso, vanilla ice cream, nocello | 9.0 |
| House sorbet of the day | 9.0 |
| Formaggi – per serve | 14.0 |
| --- | --- |
| served with pickled figs, honey, quince, grapes, lavoche, breads | |
| Collina Veneta, cows milk, hard, nutty – Veneto, Italy | |
| Pecorino Di Fossa, sheeps milk, hard, pit aged – Tuscany, Italy | |
| Taleggio, cows milk, soft, wash rind, tangy – Lombardy, Italy | |
| Gorgonzola Dolce, cows milk, mild blue, medium soft – Lombardy, Italy | |
WINE
| Vino Frizzante | 120ml/750ml |
| --- | --- |
| NV Cester Camillo Prosecco Brut DOC – Glera, Veneto, ITL - v | 11/60 |
| 13 Ferrari 'Perle' Brut TRENTODOC – Chardonnay, Alto Adige, ITL – o/v | 25/140 |
| NV Venturini Baldini 'Cadelvento' Supumante Rosato Lambrusco DOP – Sorbara/Grasparossa, Emilia Romagna, ITL – o/v | 65 |
| Vino Bianco | 150ml/750ml |
| --- | --- |
| 19 Concilio Trentino DOC – Pinot Grigio, Alto Adige, ITL - v | 12/55 |
| 18 La Valentina DOC – Trebbiano, Abruzzo, ITL – o/v | 60 |
| 20 Paisley 'Linen' – Fiano, Barossa Valley, AUS - v | 14/65 |
| 18 La Violetta 'Ye Ye Blanc'– Riesling/Gewürztraminer/Vermentino, WA, AUS – o/v | 15/70 |
| 19 Fontanavecchio DOP – Falanghina, Campania, ITL – o/v | 70 |
| 18 Nocosia 'Vulka' Etna Bianco DOC – Carricante/Catarratto, Sicily, ITL - v | 80 |
| 19 Colterenzio Altkirch DOC – Chardonnay, Alto Adige, ITL- v | 15/70 |
| Vino Arancione | |
| --- | --- |
| 20 Unico Zelo 'Esoterico' – Zibibbo/Gewürztraminer/Moscato Giallo/Greco/Fiano, SA, AUS – o/v | 65 |
| 20 Terra di Briganti 'Benevento' IGP – Coda di Volpe, Emilia Romagna, ITL – o/b/v | 16/75 |
| Vino Rosato | |
| --- | --- |
| 20 Pasqua '11 Minutes' IGT – Corvina/Trebbiano di Lugana/Syrah/Carmenere, Veneto, ITL - v | 14/65 |
| 19 Patrick Sullivan 'Rain' Field Blend – Cab Franc/Pinot Gris, Victoria, AUS – o/v | 120 |
| Vino Rosso | |
| --- | --- |
| 20 St.Michael-Eppan DOC – Pinot Nero, Alto Adige, ITL - v | 20/95 |
| 19 La Vigne di Sammarco 'Salento' IGP – Negroamaro, Pulgia, ITL - v | 13/60 |
| 16 Bricco Maiolica 'Tris' Rosso Langhe DOC - Barbera/Dolcetto/Merlot, Piedmonte, ITL – o/v | 85 |
| 18 Laiolo Reginin 'La Mora' DOCG - Barbera d`Asti, Piemonte, ITL – o/v | 75 |
| 16 Collefrisio 'Vignaquadra' DOC – Montepulciano – Abruzzo, ITL – o/v | 95 |
| 16 Caruso & Manini 'Cutaja' Riserva DOC- Nero D'Avola, Sicily, ITL | 19/95 |
| Vino Riserva | |
| --- | --- |
| 16 Andrea Oberto Barolo DOCG – Nebbiolo, Piemont, ITL - v | 205 |
| 18 Podere Castellinuzza Chianti Classico DOCG – Sangiovese, Tuscany, ITL – o/v | 115 |
| 12 Secondo Marco Amarone della Valpolicella DOCG – Corvina/Corvinone/Rondinella, Veneto ITL – v | 275 |
| 18 Vigneti del Vulture 'piano del cerro' Riserva DOC – Aglianico, Basilicata, ITL | 28*/140 |
| 13 Fattoria di Colsanto Montefalco DOCG – Sagrantino, Umbria ITL - v | 125 |
| 16 Michele Satta 'Piastraia'- Cabernet Sauvignon, Sangiovese, Merlot, Tuscany, ITL | 160 |
| | |
| --- | --- |
| vintages subject to change | |
| o-organic v-vegan b-biodynamic | |
DRINKS
| Non Alcolici | |
| --- | --- |
| Juice – Apple, Orange, Cranberry, Pineapple | 4.5 GLS |
| Soft Drink – Coke, Coke Zero, Lemonade, Gingerbeer | 4.5 GLS |
| Italian Soda (200ml) – Aranciata Rossa, Pompelmo, Chinotto | 6.0 BTL |
| Cocktails | |
| --- | --- |
| Giardino di rose' – Marconi, Elderflower, Istine Rose Vermouth, Cucumber, Whey | 20.0 |
| Take flight – Four Pillars Gin, Italicus, Violetta, Lemon | 19.0 |
| Pineapple Express – Disaronno, Montenegro Amaro, Hand Crafted Pineapple + Cinnamon Cordial | 20.0 |
| Vinny Ocean Margherita – Corazon Blanco, Liquor Strega, Pampelle, Yuzu, Strawberry Balsamic Agave | 22.0 |
| Roman Samurai – Haku Rice Vodka, Sake, Ginger infused Limoncello, Verjus, Apple, Fizz | 21.0 |
| Carosello – Limoncello, Cointreau, Cherry, Lemon | 21.0 |
| Fernet About It – Goslings Black Rum, Fernet, Italian Falernum, Lime, Coconut | 21.0 |
| Orzo Black Manhattan – Mitcher's Rye, Visner Cherry Montepulciano, Averna, Amerena syrup | 22.0 |
Birra
Draught
Bent Spoke Pale Ale 4.2% (390ml) - Canberra, Aus
12.0
Menabrea Lager 4.8% (400ml) – Italy
13.0
Bottle
Hills Cloudy Apple Cider 5% – South Australia
12.0
Peroni Leggera Lager 3.5% – Italy
9.0
Peroni Tradizione Lager 4.7% – Italy
10.0
Colonial Brewing Australia I.P.A 6.5% – Western Australia
13.0
| Gin - Fever Tree Mediterranean Tonic upgrade $2 | |
| --- | --- |
| Four Pillars Rare Dry (House) - Victoria | 12.0 |
| Marconi 46 - Italy | 13.0 |
| Malfy Grapefruit - Italy | 13.0 |
| Monkey 47 – Germany | 18.0 |
| Botanist - Scotland | 13.0 |
| Vodka | |
| --- | --- |
| Finlandia (House) - Finland | 10.0 |
| Greygoose - France | 14.0 |
| Tequila | |
| --- | --- |
| Herradura Blanco (House) – Mexico | 13.0 |
| Herradura Anejo | 15.0 |
| Rum | |
| --- | --- |
| Flor De Cana Blanco (House) – Nicaragua | 10.0 |
| Flor De Cana 5YR Dark (House) | 11.0 |
| Whiskey | |
| --- | --- |
| Naked Grouse Blended (House) - Scotland | 10.0 |
| Lagavulin 16YR Heavily Islay Single Malt - Scotland | 16.0 |
| The Macallan 12YR Double Cask Highland Single Malt - Scotland | 16.0 |
| The Hakushu Double Cask Single Malt - Japan | 17.0 |
| Jameson Irish - Ireland | 10.0 |
| Woodford Reserve Bourbon (House) - USA | 11.00 |